Surviving to Thriving: The EQ Retreat 2023
May 29-June 2, Villasimius, Sardinia – Italy
The retreat includes four experiential EQ sessions to reflect, learn new tools, and plan forward for ourselves and our work. Built on Six Seconds' new Managing Wellbeing curriculum, participants will develop their own wellbeing insights and building blocks.
They will have the opportunity to use the retreat framework together with the Managing Wellbeing program with their own clients.*
To better organize your trip, please consider that:
– the program starts with the kick-off meeting at 5.30 pm
– the airport is one hour far from the villa
– the program ends with breakfast on June 2
Agenda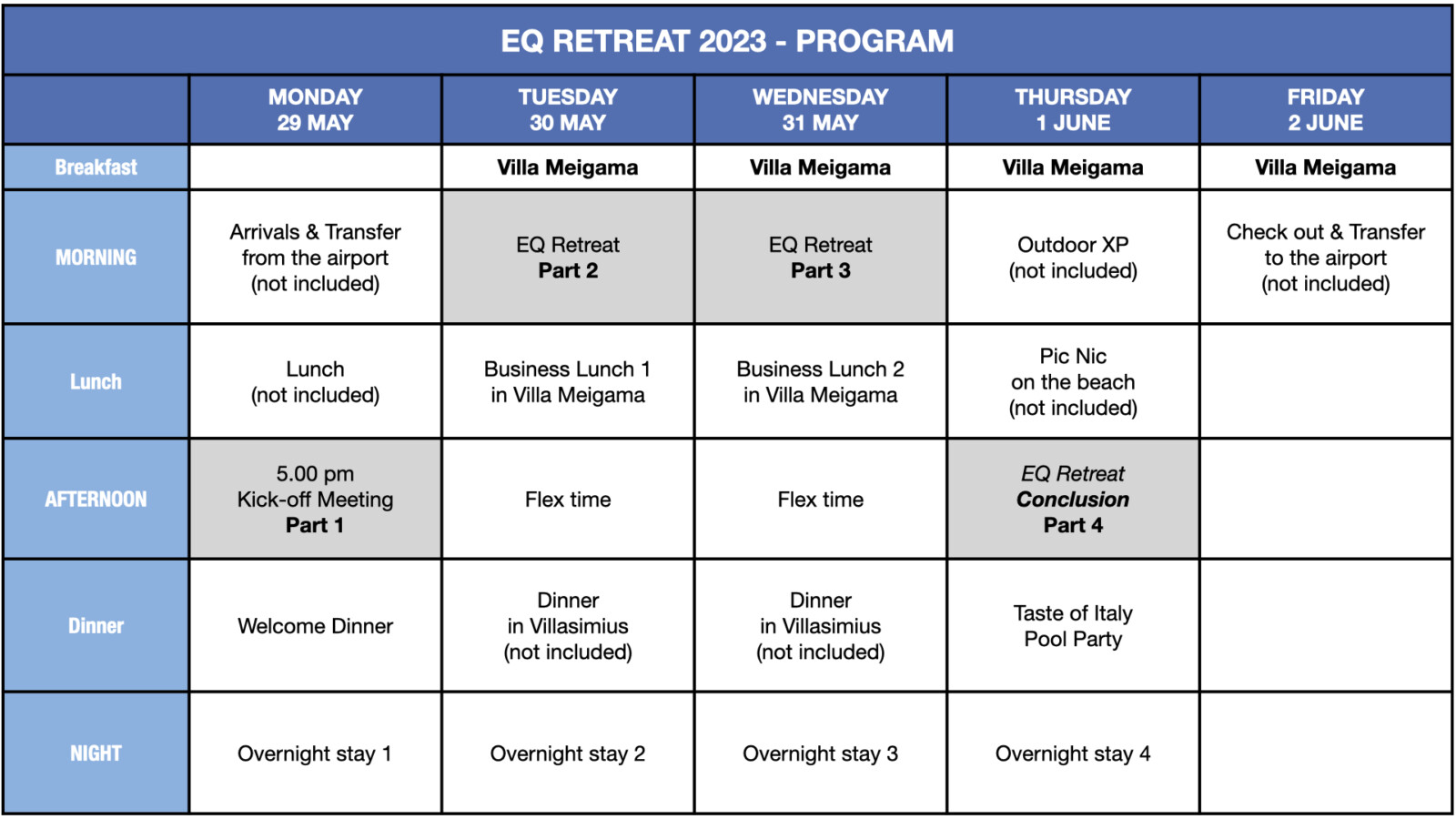 Offer
Registration includes:
4 nights lodging in shared villas**
4 breakfasts
2 lunches
2 dinners
program & materials (for one person)
Shared room (each): $ 2,000
Single room (each): $ 2,400
Couple room (for 2): $ 3,300
Optional extras include transport from the airport, outdoor XP and adventures, additional meals, and pre-or post-retreat tours.
* future use of the retreat materials requires the purchase of the Managing Wellbeing eLearning for each participant.
**houses are around 10 minutes walk to the beach, with a shared kitchen in each house; most rooms have a shared bathroom. There is limited wifi availability.
---
Payment terms
Deposit $500 upon registration, balance by 25 March.
Below you will find the link to pay the deposit:
---
Some quotes from those who attended last year:
"Location was great and so beautiful. Perfect setting to guide you through an amazing process of self reflection, connection with others, and a lot of great food and fun as well! Amazing people, great energy in Six Second style!"
Manuele Caviglia
"To say that the EQ Strategy Retreat in Sardinia was special would be an understatement. Connecting with like-minded friends (both old and new) – learning and growing together – in the magical setting of Serr'e Morus felt like a gift. The retreat was an opportunity to explore EQ strategy from different angles, taking tools and frameworks and putting them together in a practical 'field guide'. Perfect weather, amazing food, music and fun…icing on the cake!"
Amanda Crawford
---